Admission Closed
Technician Training Program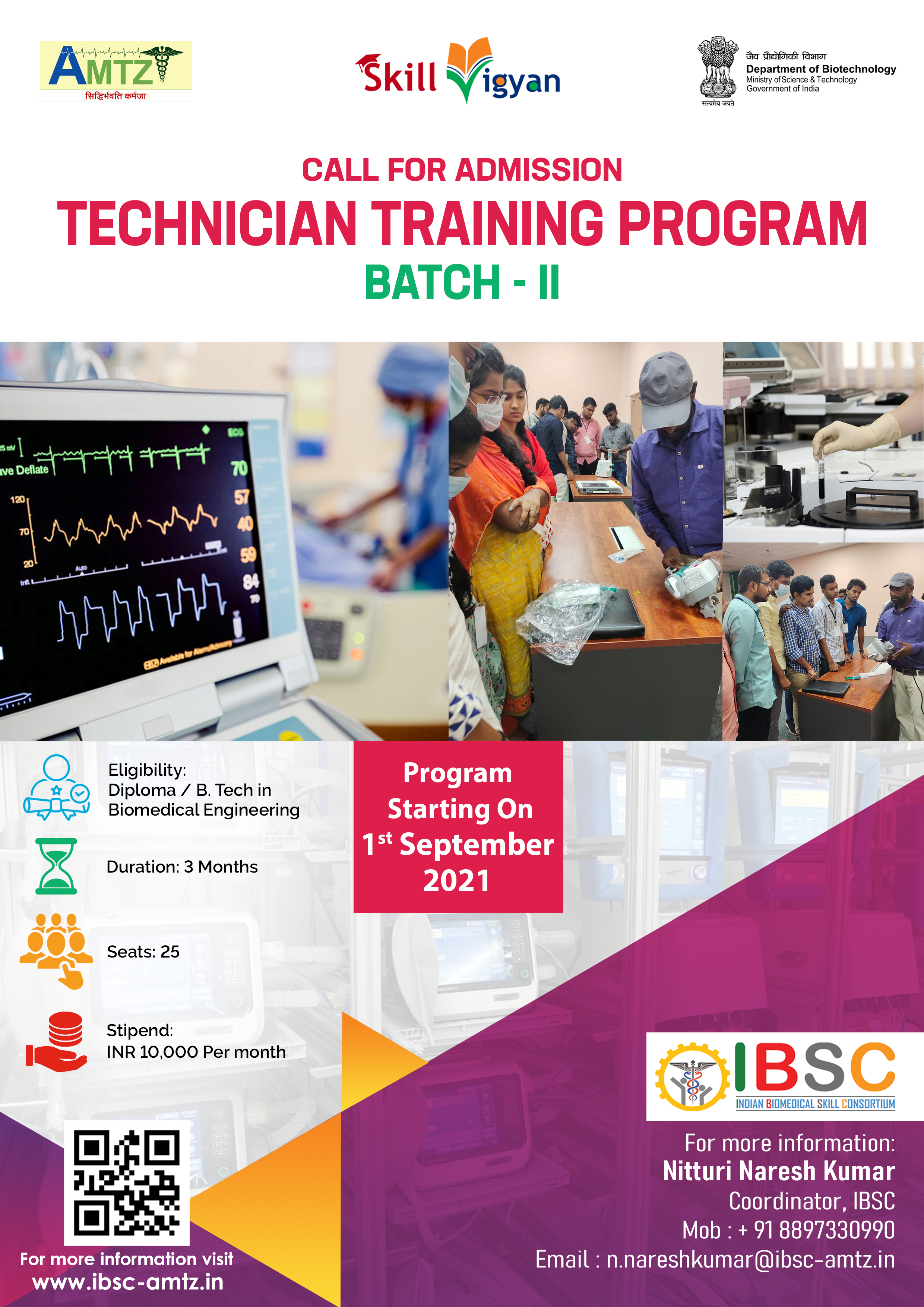 Last Date for Registration: 27th August (Friday; before 5 PM) 2021
Link to Register: https://docs.google.com/forms/d/e/1FAIpQLSfm8lapGjcoTRyb3D-wH8yggJ77Oew4KMeVvuhE4nXB8sYaLA/viewform
Inviting Applications from Diploma / B. E / B. Tech in Biomedical Engineering Candidates to Technician Training Program at Andhra Pradesh MedTech Zone (AMTZ) Campus Vizag. This program duration is 3 months. Eligible candidates can register for this program.

Note:
1) Eligibility Criteria is Diploma / B. Tech in Biomedical Engineering
2) 2021 Graduates waiting for final semester marks are also eligible.
3) Final year graduates (2022) are not eligible
Program Features:
Equipments: Critical Care, Laboratory, Radiology
Duration: 3 Months (13th September – 13th December)

Any Questions Please contact to
Mr. Nitturi Naresh Kumar
Nodal Officer,
Skill Vigyan Center,
AMTZ Camus, Vizag

Mobile: 8897330990
Email ID: n.nareshkumar@ibsc-amtz.in
FAQ's
What is Skill Vigyan Program?
AMTZ is providing Technician Training Program from Diploma / B.E / B. Tech in Biomedical Engineering under Skill Vigyan Scheme. The Department of Biotechnology (GOI) has established Skill Vigyan Centre at AMTZ Campus. The objective of Skill Development Program is to train young Biomedical Engineers into professionals to take-up jobs in Medical Device Industries, Hospitals, R & D Laboratories, Diagnostic Laboratories and Biomedical Companies.
For more information please visit the IBSC Website - https://ibsc-amtz.in/
What am I learning in this technician training program?
In the three-month duration of the program, the candidates will be given Hands-on training on medical equipment's like critical care equipment's and laboratory equipment's'. They will also learn about the operation and working of the equipment along with its maintenance, calibration and troubleshooting.
Who can apply for the Technician Training program?
Candidates with education background in Diploma / B. E/ B. Tech in Biomedical Engineering are eligible to take up the training program. Recently graduated or unemployed candidates can also apply. Students currently pursuing their B.E / B. Tech aren't eligible for this program.
Is there any registration and examination fee for the Technician training program?
No, there is no registration fee for the program. Upon registration, candidates have to attend the Online test. No examination fee will be collected for the same.
Technician training program – Online Test pattern. Date of Test: (28th August 2021 - Saturday - Time: 11 AM - 12 Noon)
Examination Pattern: Multiple Choice Questions with 4 options

Mode of Assessment: Online

Number of questions asked in the exam: 40 (20 Biomedical Instrumentation; 10 soft skills; 10 general knowledge)

Time duration for the test: 60 minutes

No negative marks
Is there any training fee for the Technician training program?
No, there isn't any training fee to be paid by the candidate.
Is there any stipend for the candidates attending the program?
Yes, a monthly stipend* of INR 10,000/- will be provided to the candidates attending the technician training program for a duration of three months subjected to candidature.
*(T&C applicable as per GOI norms)
How can I apply for this Skill Vigyan Technician training program?
Eligible candidates need to fill the google form
https://docs.google.com/forms/d/e/1FAIpQLSfm8lapGjcoTRyb3D-wH8yggJ77Oew4KMeVvuhE4nXB8sYaLA/viewform
What are the required documents to process my application?
Academic certificates (Degree, consolidated mark list)

Candidate photo

Candidate signature

Aadhar card

Caste Certificate (mandatory for OBC, SC, ST)
The candidate photo and signature in JPEG format with less than 200kb and candidate ID proof, highest educational qualification (current & previous) in PDF format with less than 2 MB size.
Food, lodging and transportation during the training period.
Apart from the stipend, the candidate won't be provided any additional facilities. The candidates have to take care of their own expenses. For hostel/room availability, they will be guided by the team and given options to select based on their requirements.