Admission Open
Online
Training Program
Certificate in Biomedical Quality

Assurance
(NSDA Approved

Course; Job Role No: 2019/HLT/AMTZ/3578)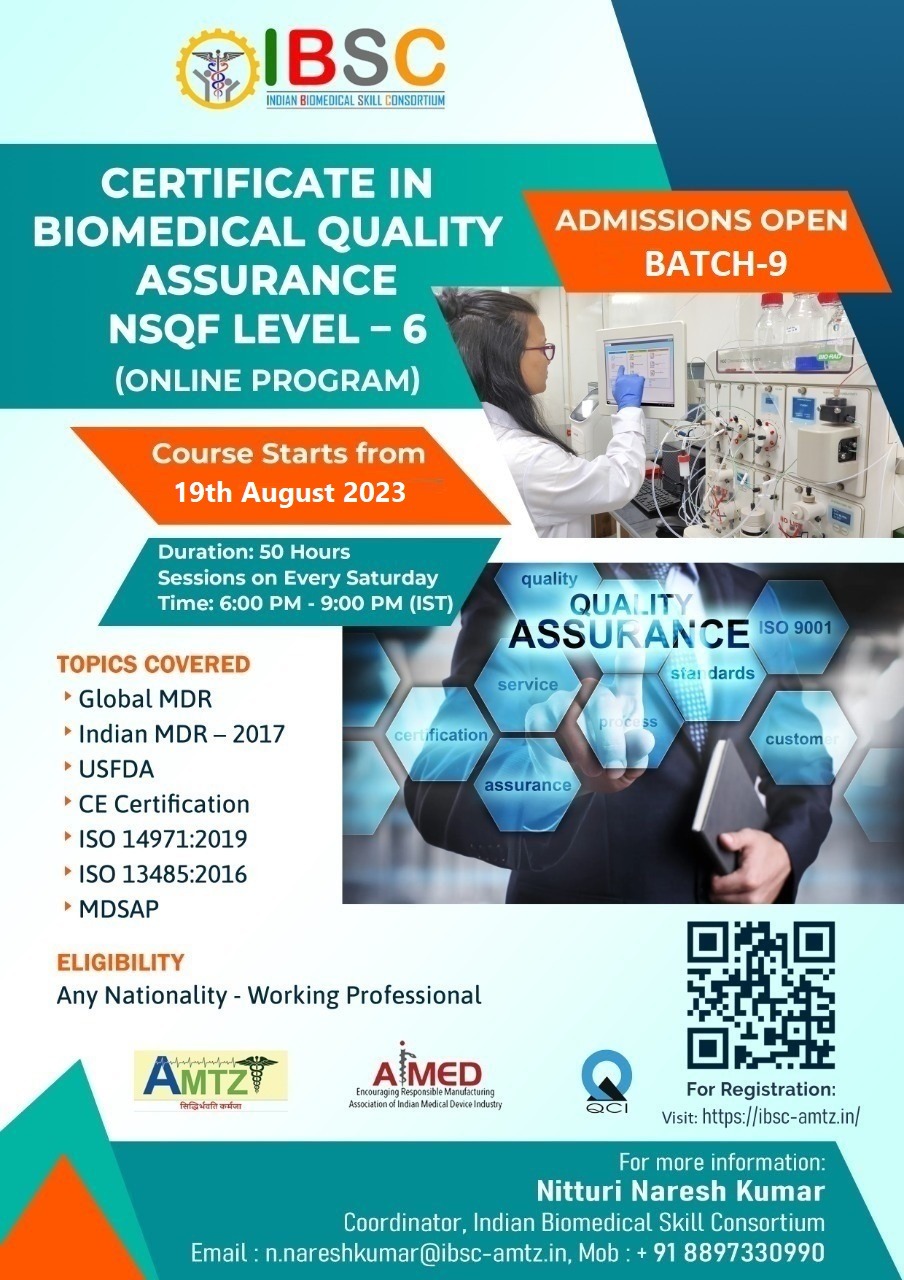 Admission Open
 The objective of this training program is to develop a pool of
workforce which can be employed by focuses on the acquisition of skills
necessary to develop quality control of medical devices and validation process.
As per the training modules at the end of the training, the candidate would be
certified to perform following activities
Works cooperatively with

R&D, Process Development, Quality, Production, Regulatory, Equipment

Engineering, Supply Chain, and Marketing to ensure project success.

Prepares standard reports/

documentation to communicate results to the technical community.

Responsible for developing

appropriate test methods and inspection plans. Test methods shall be validated

as necessary.

Ensures quality products

are developed in accordance to governing regulations and processes.

Actively participate and

assist teams with Risk Analysis to include Risk Assessments.

 

Responsible for product change assessments, health hazard

evaluations and product recall documentation.


 
MODULES:
·       Global MDR
Indian MDR – 2017
USFDA
CE Certification
ISO 14971:2019
ISO 13485:2016
MDSAP 
Duration: 50 Hours (Sessions on Every Saturday 6:00 PM – 09:00

PM Indian Standard Time)
Course Fee:
For Indian Nationals:
 INR 19,500 (Including
GST); this fee covers Training Fee INR 15,000/- + Assessment Fee INR 4,500
For Foreign Nationals:
USD 375; this fee
covers Online Training Fee USD 250 + Assessment Fee USD 125

Last Date for Registration 18th August