Admission Open
Certificate in Biomedical Engineering
(NSDA Approved Course; Job Role No: 2019/HLT/AMTZ/3575)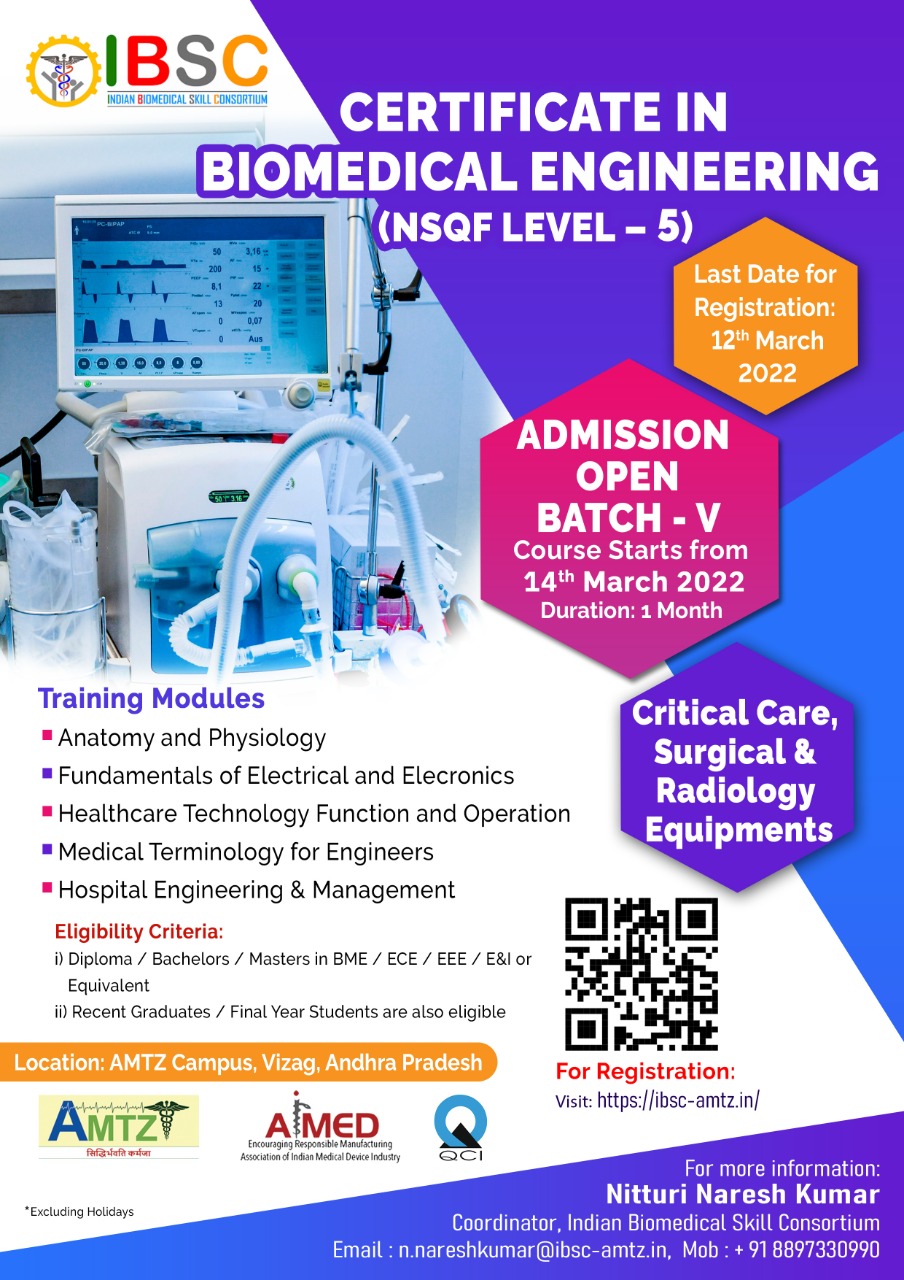 Last Date for Registration: 16th April 2022
The objective of this training program is to develop a pool of workforce which can be employed by focuses on the acquisition of skills necessary to use equipment designed to diagnose, and fix malfunctioning medical equipment.
As per the training modules at the end of the training, the candidate would be certified to perform following activities -
a) Maintain, repair or provide technical support for biomedical Equipment.
b) Train clinicians & other healthcare professionals on basic medical equipment's like BP apparatus, ECG Machines, Patient Monitors etc.
c) Evaluate the safety, efficiency and effectiveness of biomedical equipment.
d) Liaising with medical, engineering & scientific staff.
e) Writing reports and documentation.
Equipment Covered: Critical Care Equipments (Ventilator, Defibrillator, Patient Monitor, ECG Machine, Syringe & Infusion Pumps); Surgical (OT lights, OT Table, Surgical Diathermy, Anesthesia Ventilator) and Radiology Equipments (X- Ray Machines, C- ARM, CR System, Ultrasound)
Topics Covered:
1) Training on Medical Equipments (Critical Care, Surgical & Radiology)
2) Skills Required for Medical Devices Sales
3) Calibration of Medical Equipments
4) Electrical Safety Testing of Medical Equipments
5) EMC/EMI Testing of Medical Equipments
6) Intellectual Property Rights (Medical Devices Perspective)
7) Sterilization Techniques of Medical Devices
8) Health Technology Assessment (Medical Devices)
9) Adverse Events Reporting of Medical Devices
10) NABH / NABL / JCI Accreditation
and other related topics
Duration: 1 Month
Eligibility: Diploma / Bachelors / Masters in BME / ECE / EEE / E&I or Equivalent
(Final Year Students are also eligible to apply)
Nationality: Indian Nationality
Location: AMTZ Campus, Visakhapatnam, Andhra Pradesh
For Registrations, eligibility, Discounts & application process please visit: http://ibsc-amtz.in/coursedetails/4
Last Date for Registration 16th April 2022 - 5 PM (IST)


Course Fee:
Before 16th April: INR 18,000 (Including GST); this fee covers Training Fee INR 13,500/- + Assessment Fee INR 4,500
After 16th April: INR 19,500 (Including GST); this fee covers Training Fee INR 15,000/- + Assessment Fee INR 4,500
Discount: (Only for Training Fee; Not for Assessment Fee)
Flat 10% Discount to Individuals on Training Fee; before last date.
For more information please contact
Mr. Nitturi Naresh Kumar
Mobile: 8897330990
WhatsApp Link: https://wa.me/918897330990
n.nareshkumar@ibsc-amtz.in